Some Jazz Stuff
Flash Cards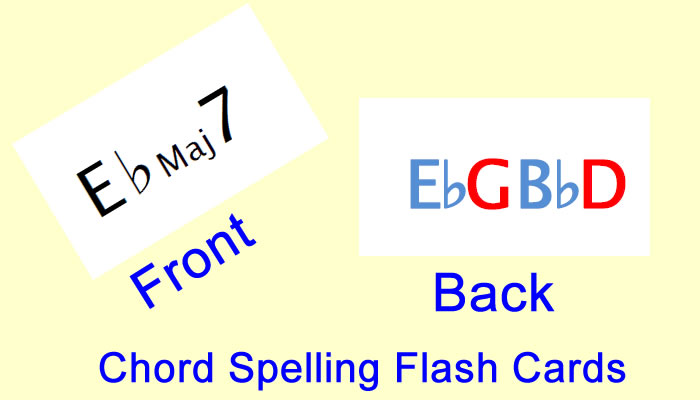 You can use the files linked to below to construct sets of flash cards for different "chord spellings". To make the flash cards, print the PDFs on label stock. Then the chord name goes on one side of an index card, the chord spelling on the other.
The PDFs are set up for Avery 5164 or 8163 Labels. Print them on the labels "actual size" not "fit" or "shrunk", preferably in color. Then stick them on a bunch of blank, unlined index cards, and you have flash cards.
In the chord spellings, the root and 5th degrees are printed in blue; the 3rd and 7th in red. The chord spellings are written using flats and double flats where appropriate, even if the flat note is played the same as an unflatted note; i.e., "Cb" for the 7th in a Db7 chord; not "B" and Bbb for the 3rd in a Gb-7 chord. Where this is done, the equivalent note is written below the chord spelling in parentheses.
I did all this to make flash cards for myself, then decided I'd spent WAY too much time on it, but at least maybe somebody else could get some benefit from it.
Interval/Ear Training References
Here is my list of song references for interval training:
| Interval | Reference Song Ascending | Descending Reference |
| --- | --- | --- |
| m2 | Nice Work if You Can Get It ("Hold-ing..") | Stella by Starlight |
| M2 | People; Happy Birthday (2nd & 3rd) | Satin Doll |
| m3 | Alone Together | Hey Jude |
| M3 | "Oh When the Saints..." | Swing Low Sweet Chariot |
| P4 | Taps; "Here Comes the Bride..." | Born Free |
| A4/D5 (TT) | Dance in the Gym from West Side Story | Dance Macabre |
| P5 | Hunting horn... ("Ta-dah!, Ta-dah, Ta-dah...") | Flintstones |
| m6 | Manha de Carnaval (from Black Orfeus) | Love Story Theme |
| M6 | My Bonnie (Lies Over the Ocean) | Nobody Knows the Trouble I've Seen |
| m7 | Somewhere (from West Side Story... "There's A...") | An American in Paris |
| M7 | "BA-li HAI" (1st & 3rd notes of chorus of Bali Hai) | I Love You (Cole Porter) |
| P8 | Over the Rainbow ("Some-where...") | Willow Weep for Me |
Here are some other good lists:
And here's an app (requires Java):
Big Ears Ear Training Application
Chord Workout
For a pretty good chord practice workout, you can cycle through these iii-VI-ii-V-I sequences through fourths. (For a shorter workout, you can just do the ii-V-I part.)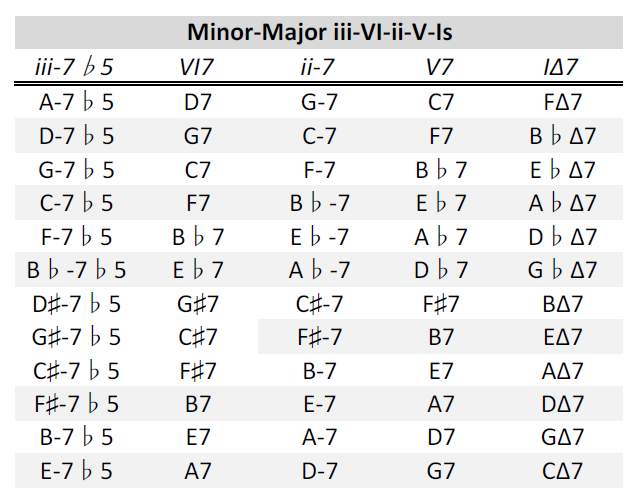 And for guitarists, here are some chord charts for Drop 2 and Drop 3 Chords on various combinations of strings. They look like this:
And you can download a PDF by clicking the image, or this link right HERE.
Some of them are pretty impossible to finger, at least quickly, but some substitutions (or added colors) are indicated with (X)s, e.g., Major 6ths for Major 7ths, 9ths instead of roots, or adding 13ths or 11ths.
-- --